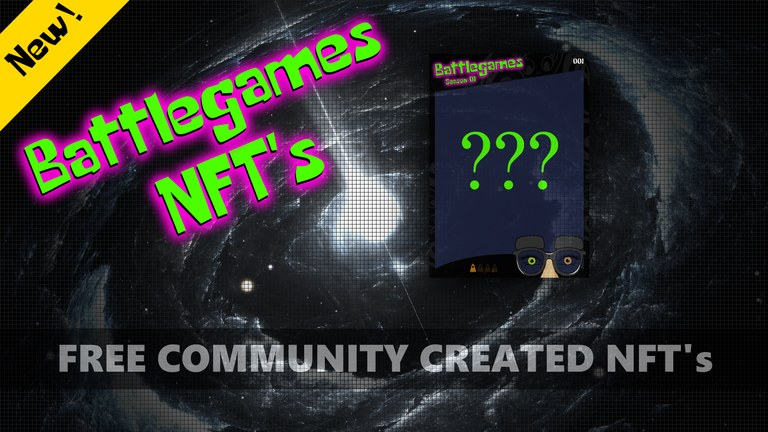 Battlegames NFT's Season 1 Launch set for Tue, Dec 15th 2020.
I am super excited to announce that it's nearly time to kick things off with our first card drop of Season 1.🔥
Thank you to the artists that have reached out to contribute, you rock! Our website will have a section dedicated to profiling contributing artists, it's the least we could do. Website to launch shortly.
Battlegames NFT's are always dropped FREE to community members!
Before we dive into Season 1, it's only fair that we let you all know more about how you can be whitelisted to receive our community drops!
How To Receive A Battlegames NFT Drop?
Battlegames NFT's are limited edition, minted on the WAX Blockchain, and dropped for free to participating community members. By the community for the community!
There are multiple ways to have a chance at receiving a Battlegames NFT drop. On drop day the majority of minted assets are dropped to accounts that have been whitelisted throughout the season. Battlegames will also keep back a portion of each drop to distribute randomly through a variety of activities, including:
Discord giveaways and contests.
PeakD & Publish0x blog posts.
Twitter & Instagram engagement.
Collectors that participated in either of our Battlegames Halloween or Friday the 13th drops are automatically whitelisted for Season 1 drops ✨
Being whitelisted does NOT guarantee that you'll receive a drop.
The total number of cards minted for each new drop depends on the cards rarity level. For example the card with the largest print run will be our rare's, with a maximum of 100 cards minted. The whitelist will almost always certainly exceed 100 members.
Battlegames NFT's are not air dropped into random accounts.
All participating collectors have engaged with the community through a variety of methods including any of those listed above.
As a courtesy Artists always receive mint #1 of their card. 🙏
Throughout each season a fresh whitelist is created to randomly draw our drop lists from. Engage with the community to be eligable for a drop. 🙌
New Discord Role
Contests and giveaways will almost always be announced first in our Discord server. We've already created a channel dedicated to Battlegames NFT's.
The Battlegames NFT role will be given to those interested in collecting our NFT's. My suggestion is that you allow notifications for @ roles in our server [only used by admins], as we will use this to alert you to an upcoming giveaway.
Join our Battlegames NFT Discord channel here 👊
Ready To Make History?
Together we can create one of the most innovative community backed NFT initiatives on planet earth! Let's do this!
---
🕹️ Follow @battlegames for Blockchain Gaming & NFT News, Curation, and Community.
---
🗣️ Join our Discord Community for Blockchain Gaming & NFT Chat.
---