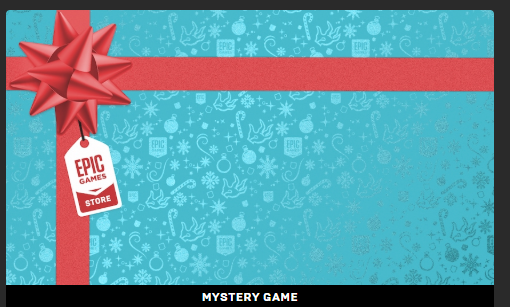 Hello, gamers! To tell you the truth this is the first time that i am writing on this community even though i am quite the gamer myself. The worst thing for a gamer is having no console/ good pc to run his games and i belong to that category.
All i have now is a 7 years old laptop that can't play almost anything, so i have to gather money to buy a new one or even better a desktop. I still remember the glorious days of my laptop in which i played Black Flag!
Anyways as a gamer and even though i can't actually play the games i want to, i can't say no to free games and neither should you!
Epic games for the Christmas period had come up with an idea of giving 1 free game each day starting from December 17, for two weeks straight. Each game will be free to claim for just 24 hours, but they're yours to keep forever.
Till now i claimed everything but one so let me present to you briefly what you missed!
Alien Isolation
Alien Isolation is a 2014 game that has gathered quite good reviews.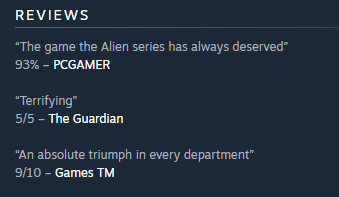 The basis of the game is to try and survive from the alien and at the same time to uncover the truth about your mother. I like to play games like this, i close down everything at home, even if it's a day in order to gain the full experience! The good thing is that given the requirements, it seems like i can play this one!
---
Cities: Skylines
Cities Skylines is a 2015 game with awesome reviews as well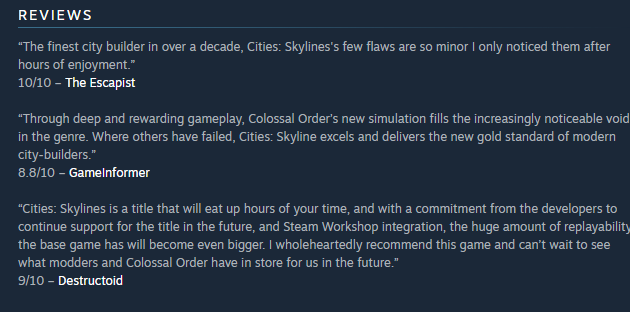 It's basically a city simulation game but the more you play it, the harder it gets. You see it's easy at first to build your city but as a mayor, you have to take into account a lot of different aspects and find the balance. That's another game my laptop can handle!
---
Inside
To tell you the truth i had no clue about this game so i had to do a little more digging than usual. It released during 2016 by playdead and it's an indie single-player game with extremely good reviews

This game is quite dark with intense action and puzzles as they say. It is also an award-winning game, and yeahh my laptop can handle it as well! I guess i'll leave it for the end, because of the overwhelming reviews! I am saving the best for last!
---
Tropico 5
Another 2014 game with good reviews that i wanna delve more into it, as i have played a bit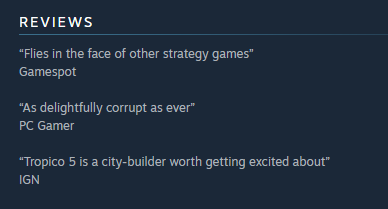 As i said i have played this game for a few hours. You are basically a dictator on a remote island where you try to build your city and become independent. After trying for a couple of hours i lost badly, so as you can imagine, you need a little bit of strategy to play it!
---
Oddworld: New 'n' Tasty
Another 2014 single-player game that looks interesting and funny. Ofc the reviews are great, something that tells me that Epic games tried to achieve just that! To giveaway good games that maybe are a little bit underrated.

I don't want to reveal much, just think of it as an adventure after the protagonist discovers a secret! Also, another secret is that my laptop can handle this as well!
---
Night in the Woods
Night in the Woods is a 2017 game with good reviews in which you come back to your town but things aren't the same. So you explore, meet new people and try to uncover what's really going on. An interesting thing to mention is that the game is made after a successful Kickstarter!
---
Defence Grid: The Awakening
This is an old school game, dating back to 2008, and guess what! It has awesome reviews as well. Just note that this is a tower defence game, a genre i particularly like and a genre i think it's timeless. So if you like Tower defence games or you wanna remember your childhood give this game a go, if you claimed it for free! (otherwise it's 4$ :P)
---
Stranded Deep
A 2015 single-player game that you can play it Co-op as well. After an aeroplane crash, you end up on a remote island and try to survive there. The goal is to survive and leave the island. It seems like a very interesting survival game and possibly my laptop can handle it as well!
---
The Long Dark
This is a 2017 game that i heard many good reviews. To my surprise i could claim it for free so why now? It's a survival-exploration game. From what some of my friends that played it have said, this game is very atmospheric and well written.
You need to put your mind and think at many different moments so it's now that easy. To tell you the truth i tried to play it but it was lagging a bit due to my laptop ofc, so @@@ my life :P
---
Darkest Dungeon
Last but not least a game that came out during 2016 and made everyone say wow! If you think Dark Souls is difficult, try and play this. It's a magnificent turn-based single-player game that i have already tried a bit.
I was losing all day long! I haven't dig into it more but now that i own it, oh boy i will spend some days learning all the tricks and finally beating it tot he ground!
---
Conclusion
Epic Games have given quite some games for free. I know that many of you would like free games of more popular games but you need to understand that there are so many awesome and well-crafted games out there. Also, we are talking about "free", don't expect to gain the latest titles and for free, you are a bit greedy!

There 3-4 lefts, so just visit Epic games site once per day to claim the remaining games and enjoy!