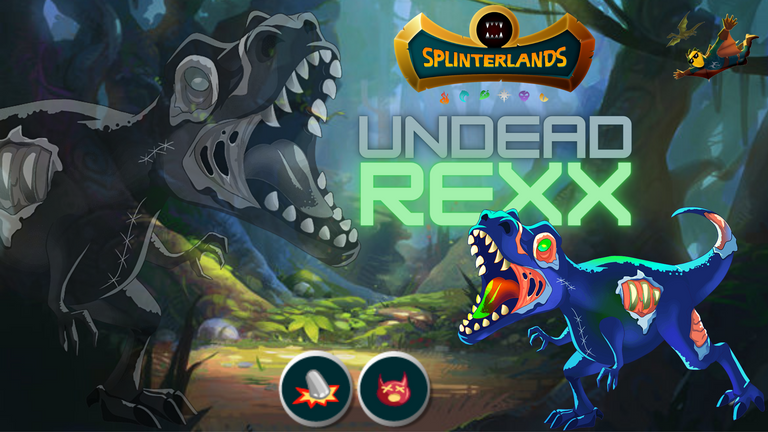 What's up my fellow Splinterlands lovers!
I hope all of you are spending a awesome day with your family and friends. The time seems to be passing by fast as only 2 days and 16 hours left for this current season to end and thus, we don't have much time to collect those lucrative trophies and also reach to our desired tier, which is Champ III in my case. Gladly, today I have reached Diamond I after playing a decent amount of time and only couple of hundreds more of those trophies I need in order to reach the Champ tier threshold. I also completed today's Focus mission which was Dragon and collected a total of 6 chests. Below is the screenshot of what I got from those chests.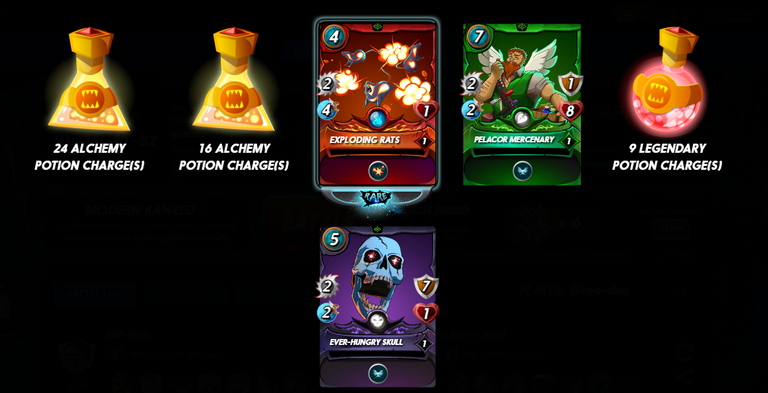 ---
---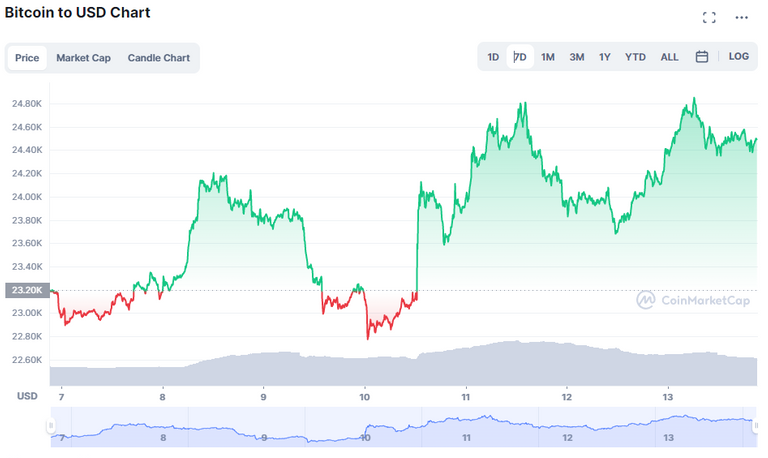 Now, let us first look into the current crypto market and see what's the current scenario is. The main dominator BTC is currently experiencing a good pump with a current price of 24,491$ with a +1.21% growth in last 24 hours. But, the other giant ETH is performing even better because of a nice pump and currently trading for 1,991$ with a sweet 16% price rise within last 7 days. Our hive is also being positive and currently being traded for 0.643$ per unit with a +0.8% price hike with last 24 hours and on the other hand, HBD is also slightly above 1$ right now.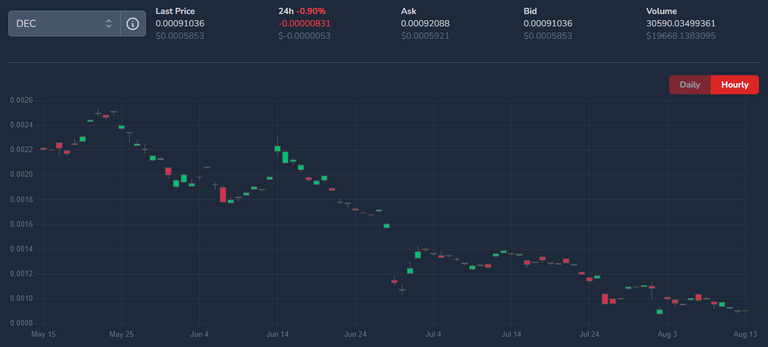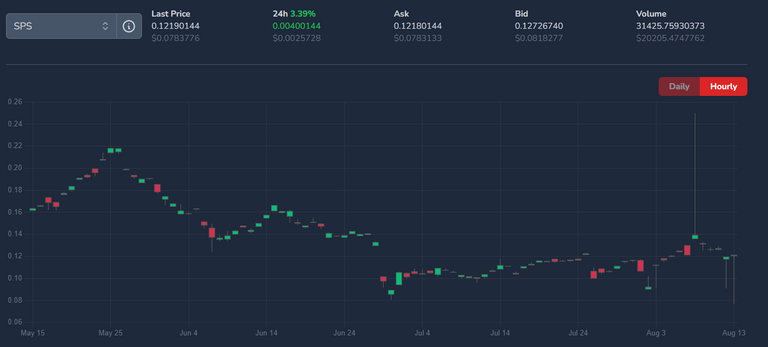 Now, taking a look at the current prices of splinterlands tokens, the main in-game token DEC is currently being sold for 0.00058$ per unit with a -0.9% price decrease within last day. On the other hand, SPS aka Splintershards is again rising after facing a downfall and currently being traded for 0.078$ per unit with a +3.39% price growth in last day. Vouchers are right now selling for 0.44$ and Chaos packs on Hive-Engine is still selling cheap for 1.9$ current price.
---
UNDEAD REXX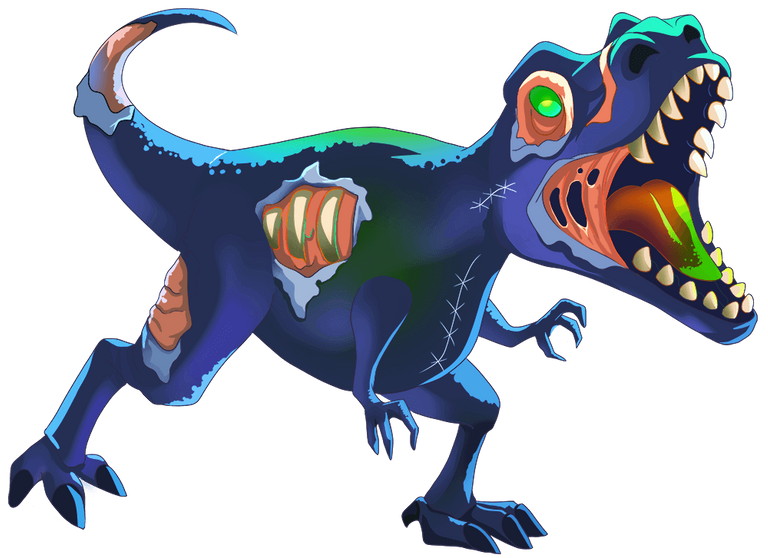 Now, let me move towards my theme as in today's post, I have decided to showcase a monster which is not so popular yet holding great potential in certain matches. As you have already guessed from the thumbnail, today's special monster is Undead Rexx! It's a Common type death Unit monster that belongs to the Reward edition and can be played with in modern format. It's a big bcx mana that provides both firepower and defensive status and can be used as a front defence monster. This monster needs 9 mana to join any battle.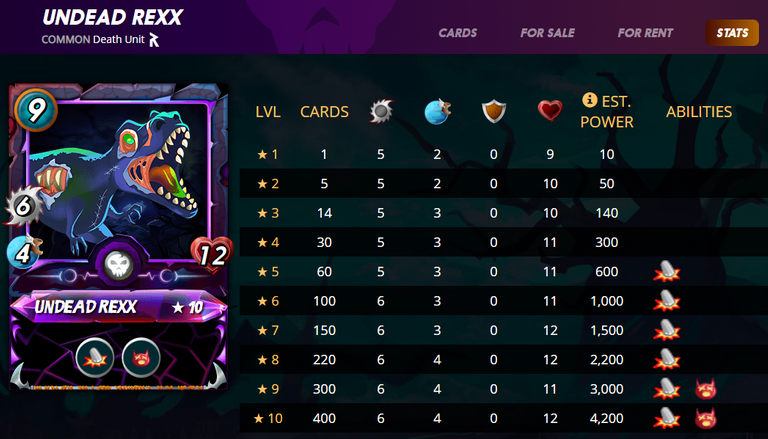 BRONZE This monster has 5 melee attack at 3 speed with 10 health along with no Ability at level 3. Thou on this stage, this monster possesses a huge melee attack hit towards enemy.
SILVER This Monster needs 60 common cards to reach into 5 level stage. On this stage, this monster equips the trample ability that helps it to launch one more attack if the enemy dies with he first attack.
GOLD This Monster needs 150 common cards to reach this stage. On this stage, this monster increases its melee power from 5 to 6 and with 12 health along with the Trample ability.
CHAMP This Monster needs 400 common cards to reach the maximum upgrade stage. On this max stage, this monster equips another ability of Stun that gives this monster a chance to apply stun when hits a target, it has a chance to stun the target causing it to skip it's next turn.
MARKET STAT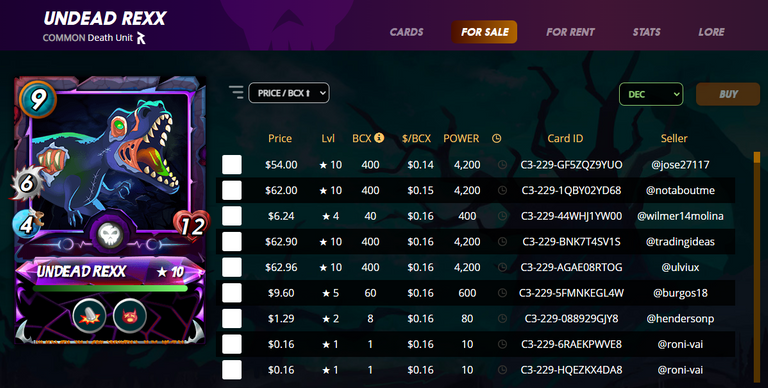 It's a Reward edition Monster so that the value is around $0.16/bcx for single BCX cards. There are also some max level available for the price around $54 for max level monster. On the other side, for the gold foil edition, it would cost around $2.54 for a level 4 (1 BCX).
Battle Line-up
---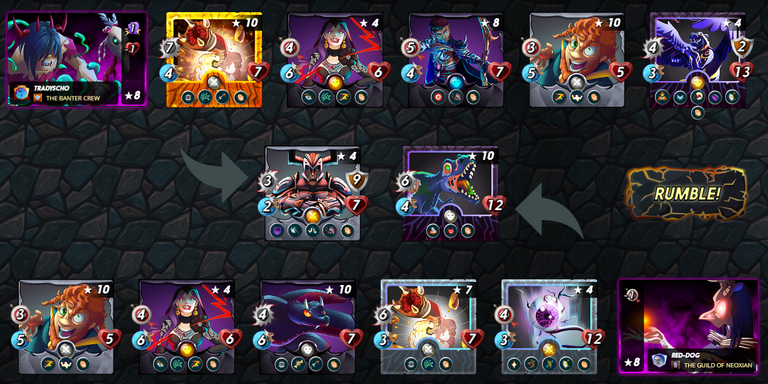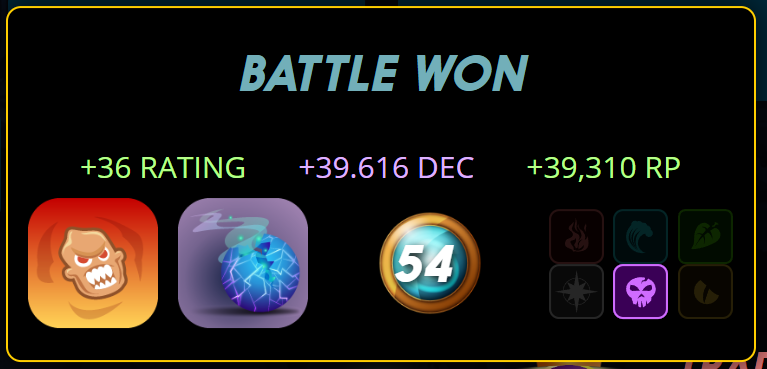 ---
mana Cap: 54
Splinters allowed: Death.
Ruleset:
Enrage - All the monsters will get the Enrage ability in this battle.
No Magic - No magic monsters can be used in this battle.
---
---
UNDEAD REXX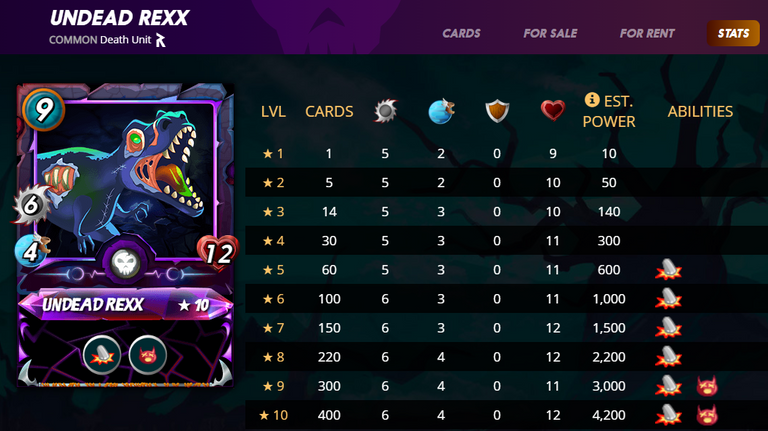 On the very first position I placed my main defensive monster and as I have already shared about it's nature and power, ability etc.. let us move to the next one.
CORNEALUS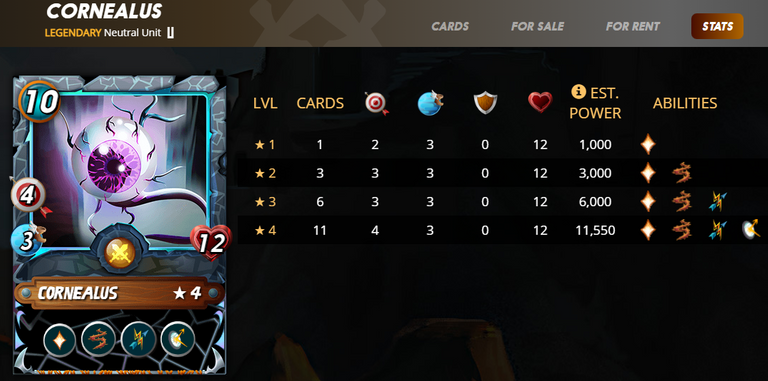 On the second position, I placed my another defensive ranged monster CORNEALUS which has 4 ability that will surely encourage it's defensive power along with 2 ranged attack with 3 speed and 12 health.
SAND WORM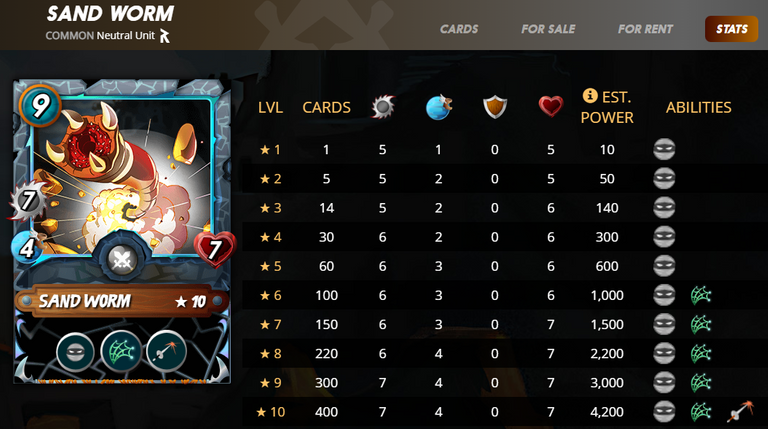 On the third position, I placed a sneaky attacker monster sand worm this monster needs 9 mana to join and has Sneak and Snipe ability that helps attack from the last position monster.
SILENT SHA-VI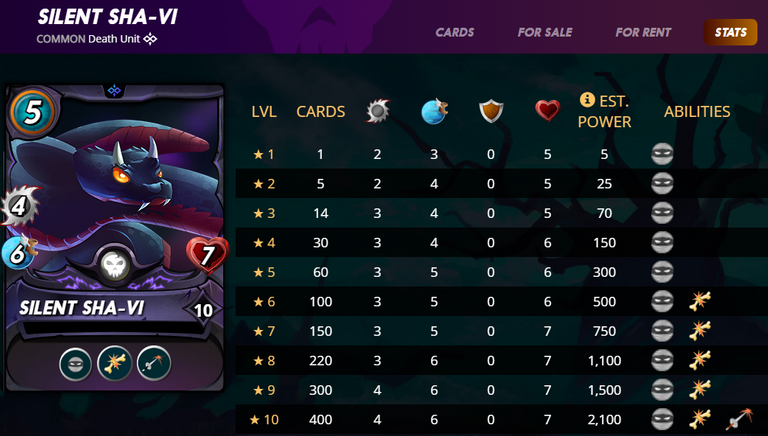 I placed this another sneaky monster on the fourth position which also possesses 2 more abilities, the Cripple and Piercing ability along with 4 melee attack with 6 speed and 7 health and needs 5 mana to join any battle.
LIRA THE DARK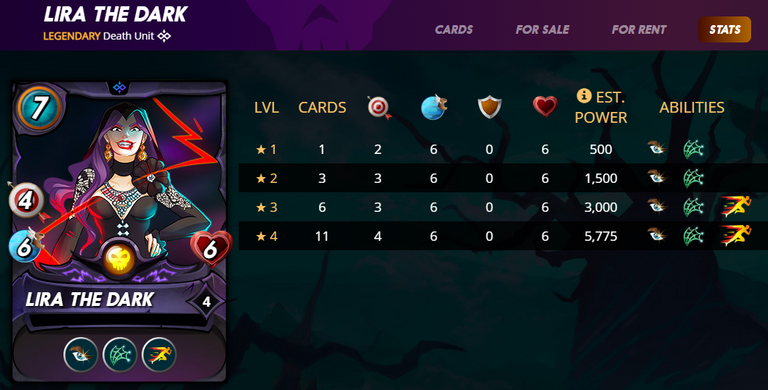 On the Fifth position, I placed this legendary ranged lady monster which has 4 ranged attack with 6 speed and 6 health along with a full bag of 3 abilities, such as -Opportunity, Snare and Swiftness ability.
SUPPLY RUNNER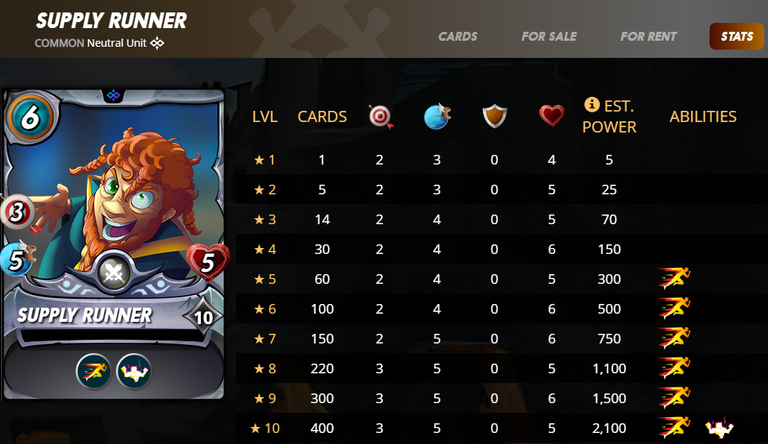 On the last position, I placed this 6 mana cost ranged monster which will help my friendly monster with more speed and health. It has 3 ranged attack with 5 speed and 5 health along with Swiftness and Strengthen ability.
BATTLE BEGINS
ROUND 1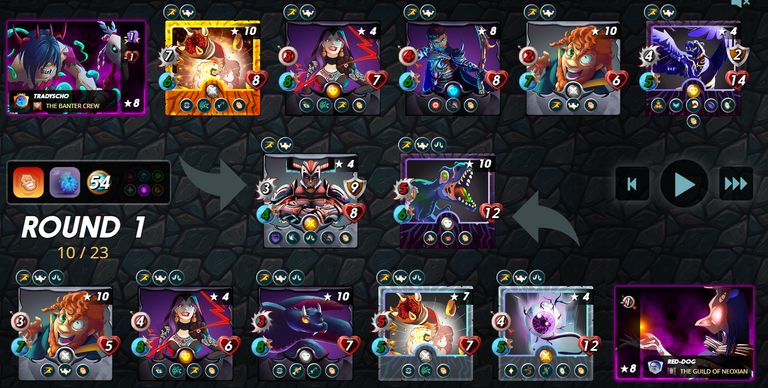 On the very first round and after all the monsters of this battle gets all abilities and disabilities upon them, the battle started as my Lara strikes the first attack towards the enemy Dark Ha'on monster and destroyed the shield. On the other side, the enemy Lara also damaged my Supply Runner's health. Next, my Supply Runner throws an attack towards the Dark Ha'on along with My Silent Sha-vi. After that, my Undead Rexx attacked and damaged the enemy front monster Alvar, followed by the enemy monster Dhampir which damaged my front defence, the Undead Rexx. Then, the enemy monster Sand worm launched but missed it's attack towards my Supply Runner and after that, my Cornealus and Sand Worm destroyed the enemy Dark Ha'on and the round ended here.
ROUND 2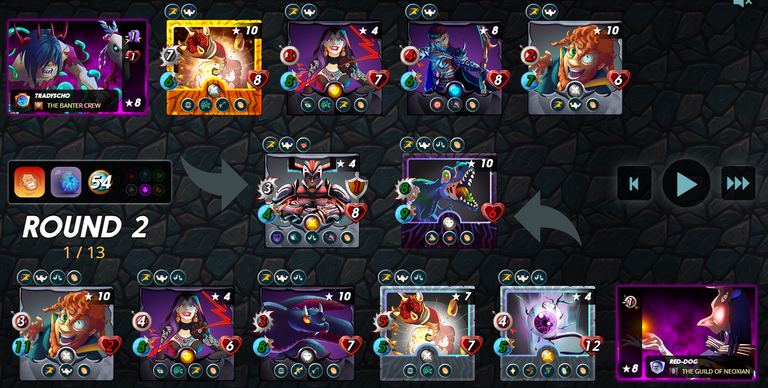 As the second round started, my Supply Runner strikes first towards the enemy Alvar and destroyed the shield. After that, my main monster Undead Rexx destroyed the enemy monster Alvar and next launched another attack and killed the enemy Sand worm with the help of trample ability. After that, my Lara Damaged the enemy on last position monster Supply Runner and then enemy Supply Runner also Damaged towards my Undead Rexx. Next, My Silent sha-vi launche but poorly missed it's attack towards the enemy Supply Runner but then the enemy Dhampir destroyed my main Monster Undead Rexx, followed by my Sand Worm which also missed it's attack towards enemy team and the round ended here.
ROUND 3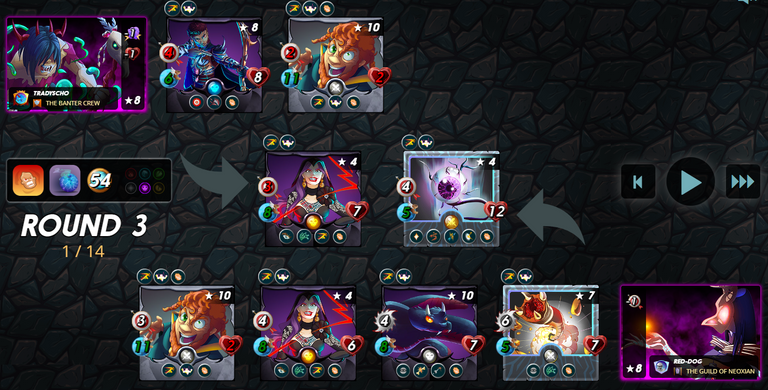 On the beginning of this round, the enemy monster did the first strike towards my Cornealus and got damaged from it's defensive ability. After that, my Supply Runner attacked and damaged the enemy Lara, followed by My Silent Sha-vi which destroyed the enemy Supply Runner. After that, the enemy monster Dhampir shoot and damaged my Cornealus and also got damaged from enemy sniper. Then, my Sand worm destroyed the enemy on the second last monster Dhampir.
ROUND 4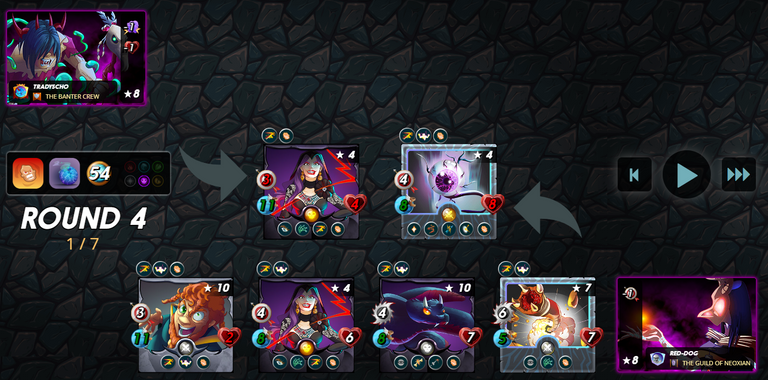 This was the last round of this battle and in this round, at first my Supply Runner attacked and damaged the enemy Lara but my Lara then missed it's attack. But next, my Silent Sha-vi attacked and finally destroyed the enemy Lara Monster and I achieved another victory.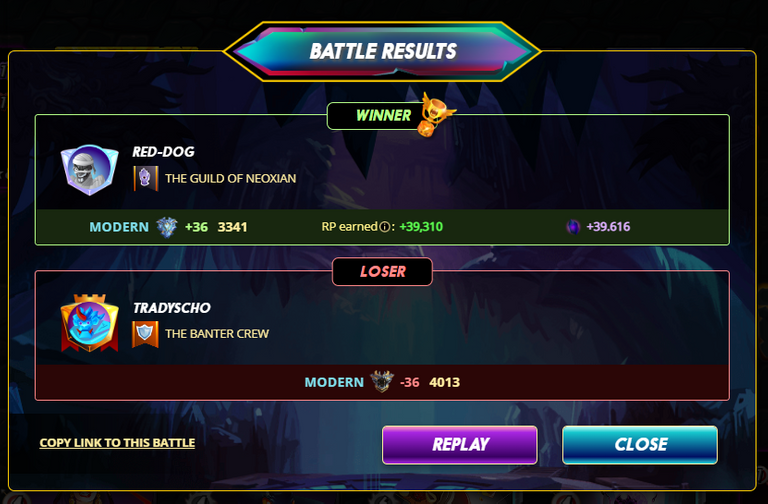 In this match, The Rexx really proved it's reliability even after being a reward card. With it's high health bar, It consumed multiple big and small attacks before going down. On the other hand, it also got successful to apply it's Trample ability to kill and attack once again, thus bringing massive damage on the opponent's frontal defence. So, after this match, I can clearly say that this monsters does hold a very good stat in the battleground, especially for the Modern format ranked matches a and tournaments.
Do you also use this awesome reward monster in your battles or you used to use other monsters over it in battles ? Let me know your opinion about this particular monster at below in the comments and I will be seeing you all in my next post.
---
---
Wish you all good luck on all of your future Splinterlands matches.
Thanks for visiting my post. Please come again!
Stay well and keep playing Splinterlands.
Want to start playing splinterlands? Click here
Posted using Splintertalk