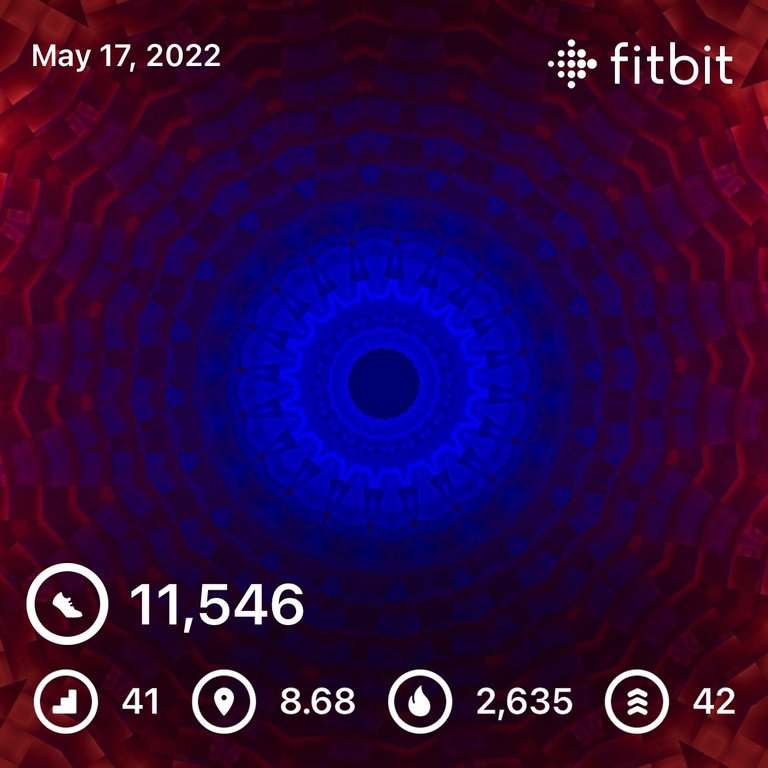 [Well, got a fairly early start on this post for today, but even so, I can see the time running short. Got the skeleton done at least and am mostly ready to go other than taking a shower and getting everything out to the car. Wenche's coming home today as well, so have to go direct from work to the airport to pick her up.]
Slept nine to five thirty today, but my sleep was seriously broken and I ended about an hour short. I had been doing pretty well with my sleep there for a while, but it seems to have gotten to the point that it snuck up on me and I totally crashed this afternoon. 😭
Nothing much too interesting going on during the morning routine. Cryptos are still brutal and the bearish sentiment is clear around the cryptosphere. I'm still very much looking to get out of Polygon, but just holding tight for now. Hoping that using Leobridge will get me out cheaper, but going into stables when I'm down fifty percent is just dumb.
We'd rescheduled the PIMP meeting for nine o'clock on Tuesday, but I was the only one who showed up. 😡😭 Guess I miss out on the drops and participation in decision making through no fault of my own. It's alright, I guess, not that big of a deal.
Otherwise, answered some questions in the Calculus Discord, chatted in Pizza, hit the faucets, did some curation, cleaned up my and solairitas' H-E wallets, did some cleaning, and worked on my post for the day.
Got it published and shared and did a little prep for teaching tomorrow and then kinda' hit a mini wall. I didn't want to give in so early, but there was zero motivation to accomplish anything, and so I jacked into VR.
Played a couple rounds of Beat Saber recording my first go throughs on Expert, but mostly played Mercenaries on Resi 4. I was actually able to five star three of the four levels on the Classic mode today! I come damn close on the last one, but the time constraint is tight and you basically have to keep the kill streak going for the entire run! Hard!!!
Quit out and grabbed my normal sandwich for lunch and then hit the wall for real. At that point I was absolute toast and I just wanted to lay down. I put on a pretty cool movie A Glitch in the Matrix about whether or not we're living in a simulation, but I crashed out hard like half an hour in. 😢
Slept for about an hour and a half or so. Didn't feel very good when I got up, to be honest, still tired but also disoriented and groggy and still somehow sapped of energy. Was hungry, but just couldn't muster the desire to make anything, so just had a bowl of cereal for dinner.
At that point is usually when I start on my Splinterlands quest, and I considered it, but I couldn't summon the desire to do that either. Basically just got ready for bed and passed out again watching Rick and Morty.
[Hooray! I am, now, a good fifteen minutes late getting ready for work, but at least this post is somewhat decent and not just a shell. 👍😁]
---
A Bank robbery and a crisis two days in a row now in dShitty? Seems like a legit simulation of a real city.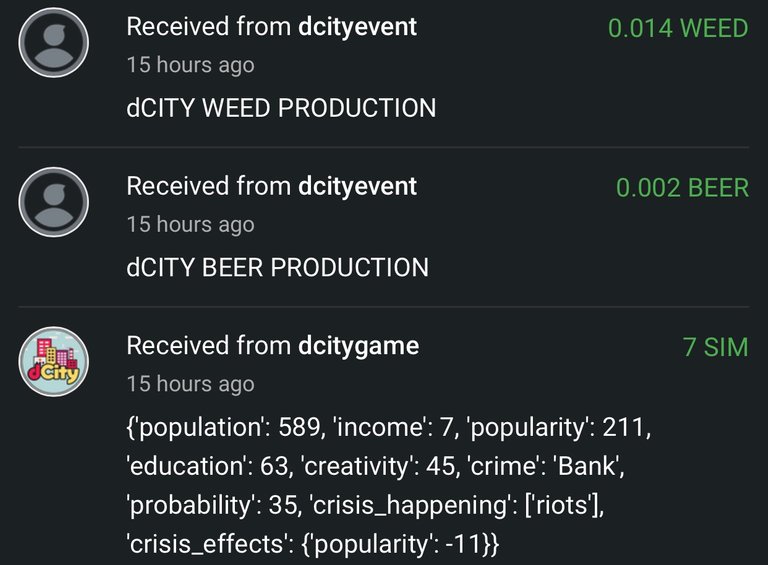 ---
Had one percent Ego on Rising Star, but a lesson took care of that and I've just been grinding missions. Only twenty more levels to unlock the band member mission (and then like forty attempts at that on average). 😂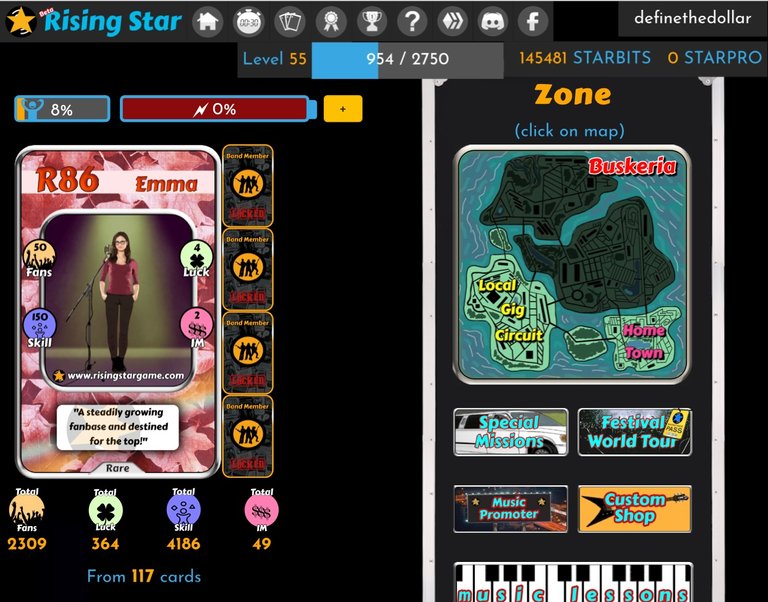 ---
Still just waiting out the clock on Hashkings. I didn't see any income from the Raid either. 🤬 I may have missed it, though.
One more day left to wait until harvest time: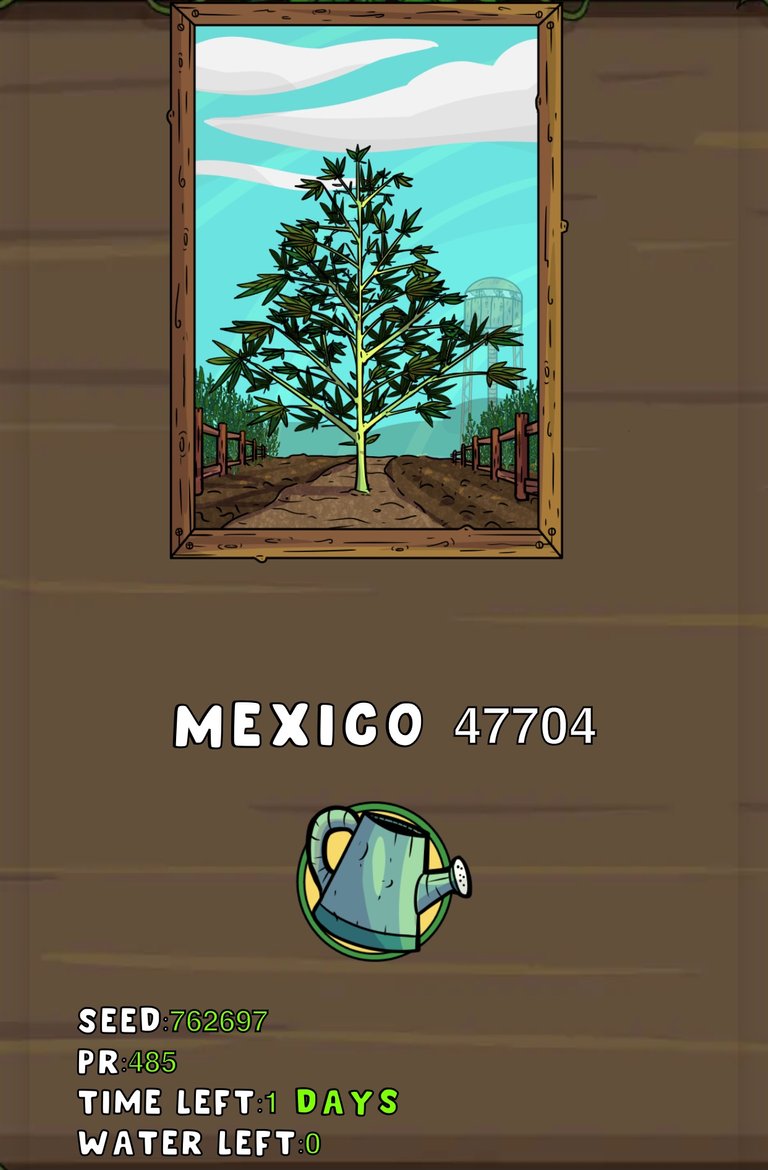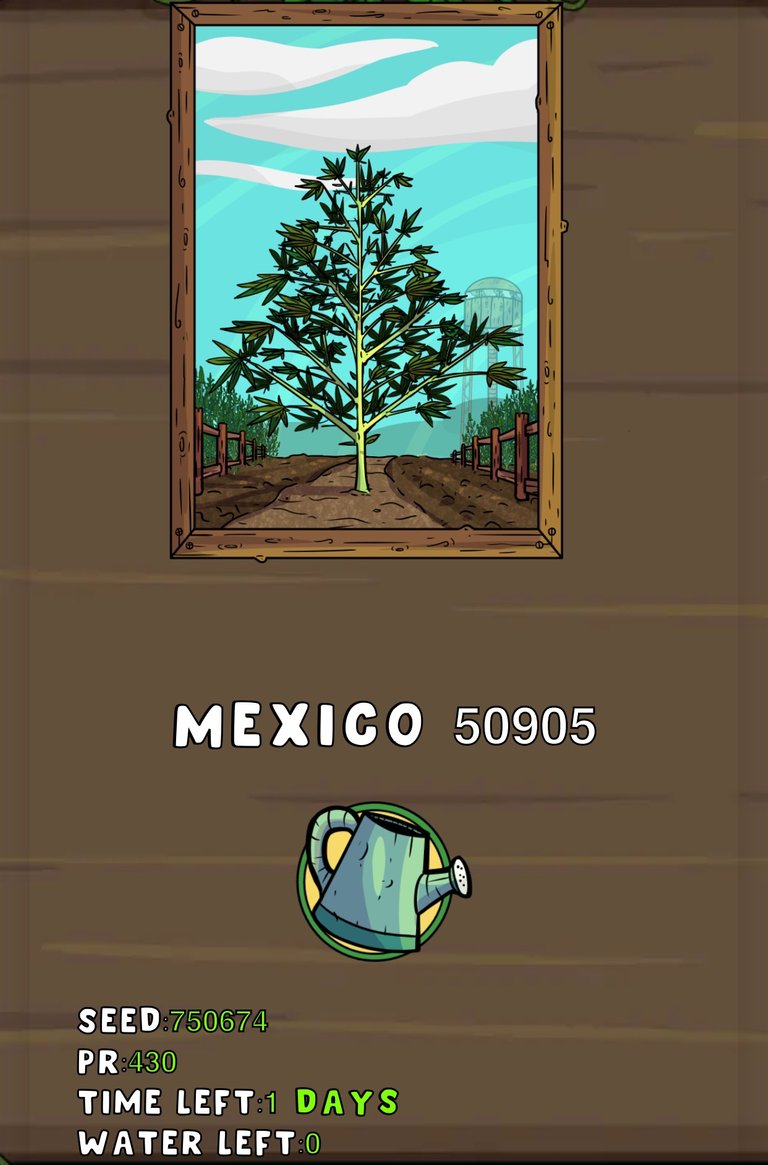 ---
I don't really know what my deal has been with Splinterlands. I'm at least three days behind on quests now. 😭 I waited out the last day of the season and then skipped the frustration of the day after the reset, but I should have played today and just didn't want to.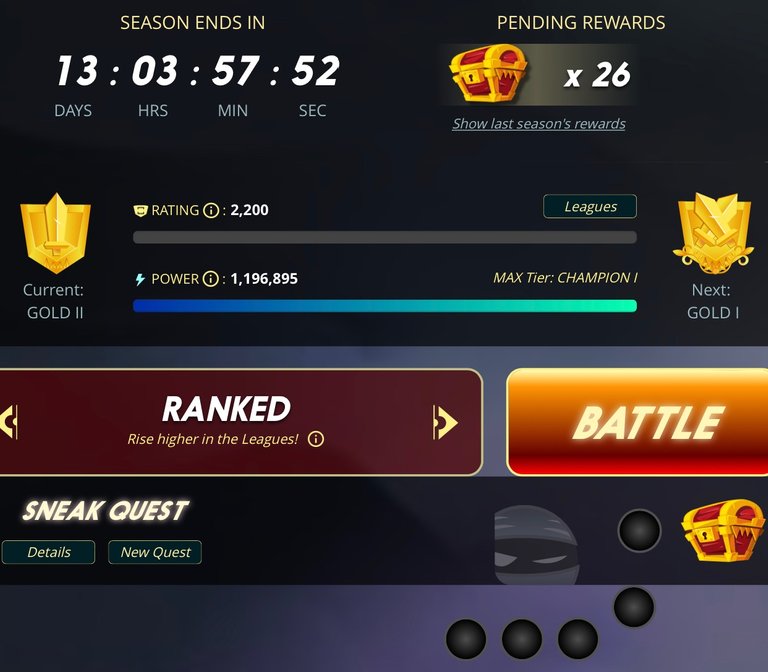 Claimed and staked my (still collapsing) SPS drop for today and my vouchers, which they've now moved from a daily drop to a claim along with the SPS interest. Otherwise, just letting them accrue for now; still have enough liquid for the moment.
---
Forgot that I got my stats for last week. Pretty happy with all those green arrows there, and particularly keen on that #DoubleDay in there! 💪
---

I forgot Wordles yet again today, dammit! 😭 I kinda' thought about it a couple times, but I don't know…just didn't feel like it.
---
Average Last 7 Days: 14,443
Lifetime Average: 14,950
10k per Day Streak: 66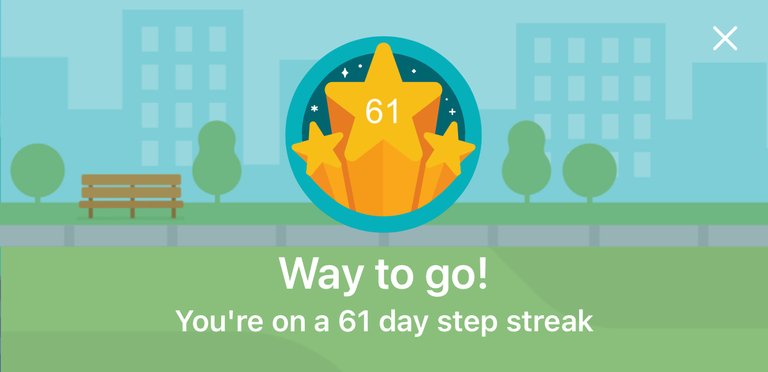 Longest Streak: 204

Distance on shoes: 781.62 km
Distance on hikers: 67.07 km
#AutomaticWin Tally: 421
#AutomaticWin Streak: 0
Longest Streak: 53
#TripleTen Tally: 118
#TripleTen Streak: 0
Longest Streak: 7
#DoubleDay Tally: 229
#DoubleDay Streak: 0
Longest Streak: 37
Highest Floors: 120
Highest Daily Steps: 41,528
Zombies evaded: 0/0
Mindfulness Diary:
Health: 84%
Satisfaction: 80%
Energy: 83%
Productivity: 65%
---
Referrals: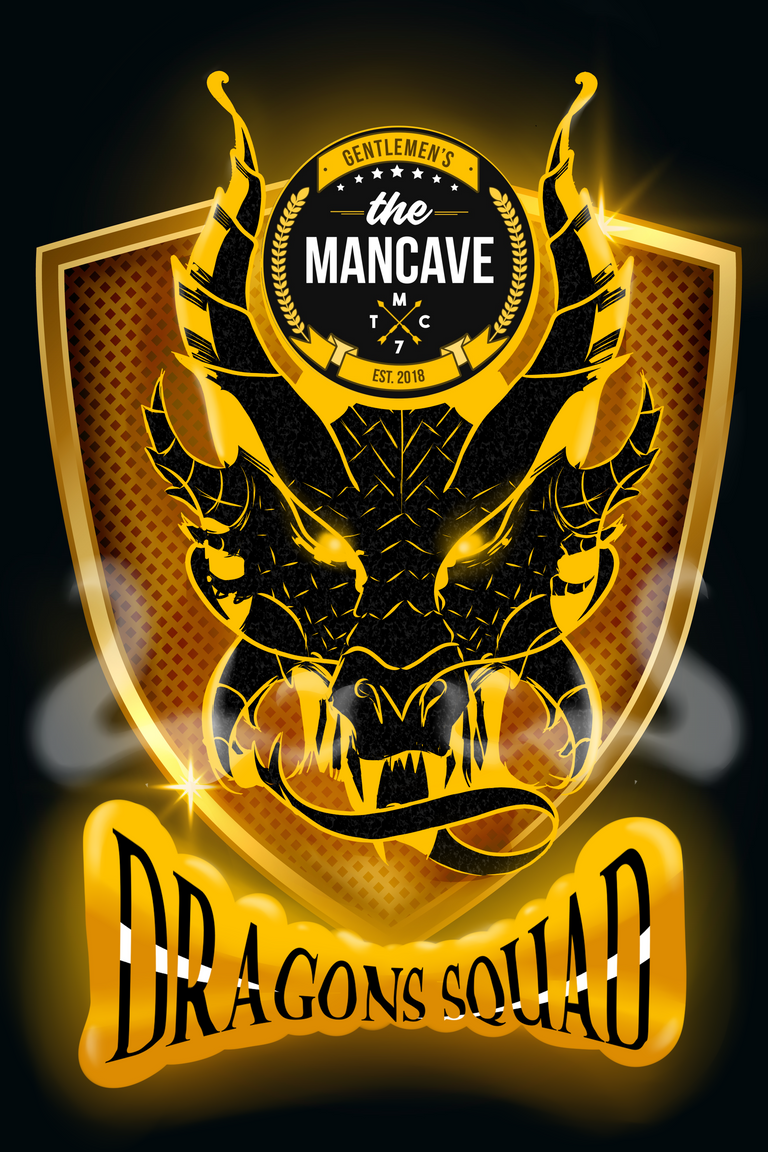 Power up and Hive on!