Have to be honest, wasn't really feeling all that great today…got that taste in my mouth that makes me sure I've caught something. 😢 Got work in a few days, of course, so getting sick isn't in the equation, so I'll bust some serious C and D and Zinc and see how it goes.
Again, almost spot on nine to five, but nearly an hour short as well with waking up during the night…little bit of snoring, but not as bad as it was! 👍 I didn't drag to hard and made it through the day without a nap despite feeling under the weather, so that's something.
Still not much happening during the morning routine. Cryptos still trading sideways and so no moves to make really. I did go in and pick up a little 1UP and staked it over to solairitas to try and start building in that tribe, but otherwise just the usual stuff I do every morning.
I guess one thing notable was that the washing machine didn't seem to work properly when Wenche started it in the morning. It had been wicked cold out last night, so was probably a frozen pipe. I'd installed a heating element on that pipe, so that was already taken care of, just had to get an extension chord and let it do its thing. Tried again after an hour or so and it worked alright. Surprisingly, the bathroom sink was fine; it's usually that one that freezes up first, just depends on which side of the house the wind is hitting, I suppose.
I had the best of intentions of getting all my school preparation done today, and I did sit down at the computer for a while, but once again, I couldn't really maintain focus and only got one of the tasks done on the list. Tomorrow's Monday and the time crunch is on, so I really do need to get stuff done. The semester doesn't actually start until Tuesday, but it looks more professional to be ahead of the game.
We're about half way through Power Up Month now and I'm still holding strong! Seems like people are falling off at a much slower rate now, but still one or two a day. It's an unforgiving one to get. Anyway, got my post done and shared and then we headed into town to do the grocery shopping.
Even with coupons and sales we were at about $150 today! 😱 But we did get a couple odd things like hair coloring and mouthwash that mostly explain the difference. We did get quite a bit of meat as well which ain't cheap these days.
There do seem to be some supply shortages, but not nearly as bad as the northeast has right now with their storm coming. For us, it's strangely like spring…nearly all the snow is gone again! It has been wicked cold temperatures, but not seeing the precipitation we normally do. I'm fine with it, but I assume that has some negative consequences for the farmers in the area with less groundwater being replenished.
After we got back and put everything away and I grabbed some lunch I couldn't fight the temptation to play some Garden of the Sea. I was stuck finding the last crystal for the third island puzzle but it was, ultimately, sitting right there in front of me and I didn't notice it. 😡 I got a couple more of the side puzzles done and bred a few more of the creatures on my home island and then went to the middle island and was right…that was the end of the game. I enjoyed it, not a bad game, although I still never figured out how to get the bubble ingredient (and fishing never even was necessary or anything, so that was a little weird to have that as a mechanic), but it was kinda' too short. They also could have been a little more clear about how to do stuff, but that was part of the challenge too, I guess.
We watched a movie in the afternoon…trying to think of what it was, but all I can remember is Don't Look Up and that was yesterday…wait, oh yeah, it was called The Watch, I think, a comedy about some guys that form a community watch and then thwart an alien invasion. Was alright, had some big actors, but not exactly classic cinema or anything.
Later on Wenche made us burgers and curly fries for dinner 😋 and we watched some more random whatever trying to find something good (we've more or less binged all the good stuff 😢). Once again I had several thousand steps left for the day and so I did some marching in place to finish out and keep the streak going and then hit the sack round about nine again, maybe a little before.
[Although it did suck getting skipped by brofund and brofi yesterday, at least I only have to wait until 10:01 today rather than almost twenty past.]
---
Hrm, no crime or crises in my dShitty today. 😯 That makes for a 44/400 shittiness score; they're slackin' bigtime!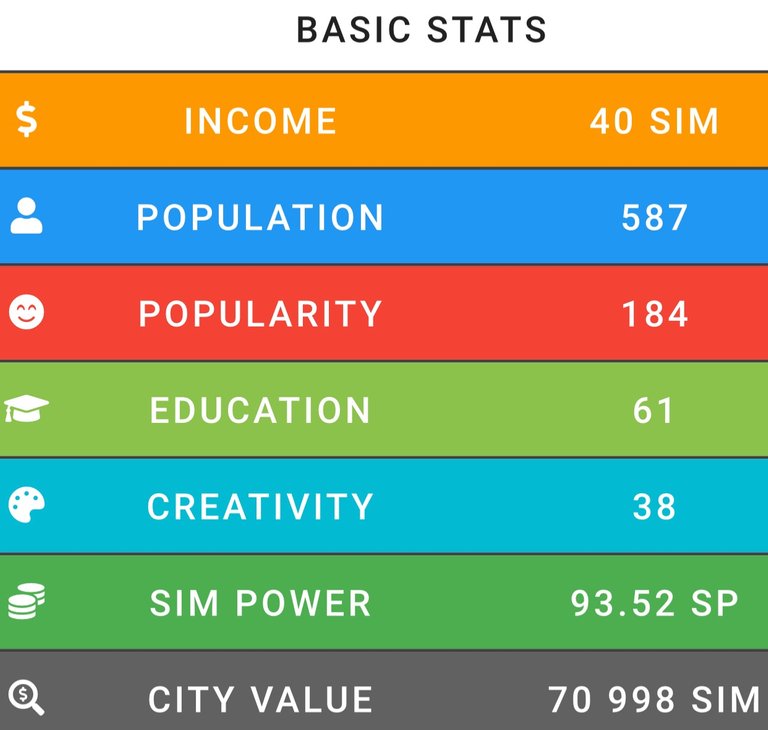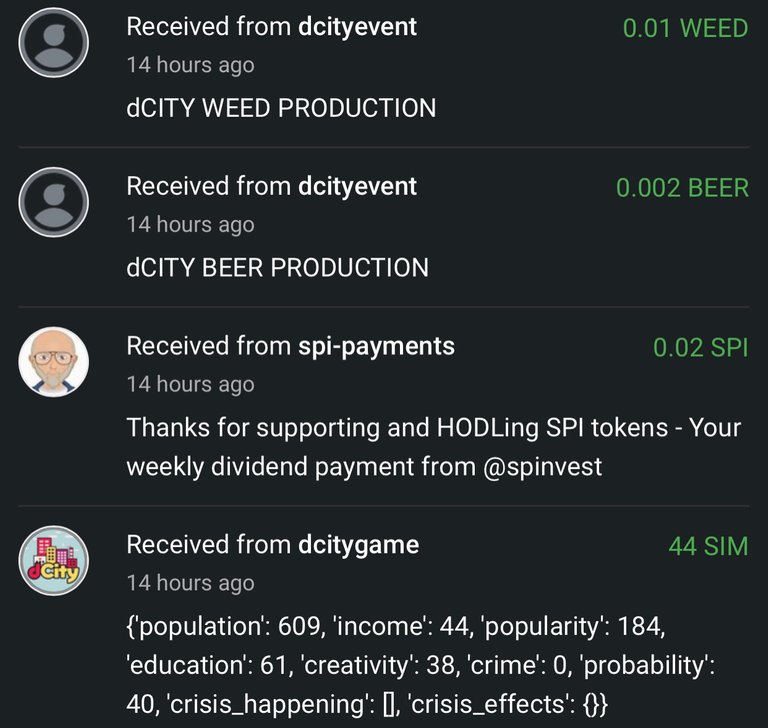 ---
Mostly just did lessons on Rising Star today trying to get my Ego back down to zero. I was close, but I decided to pick up another Rare person off the market and the fans were more than the skill, so it jumped again. Now that it's back down again, switching back to missions.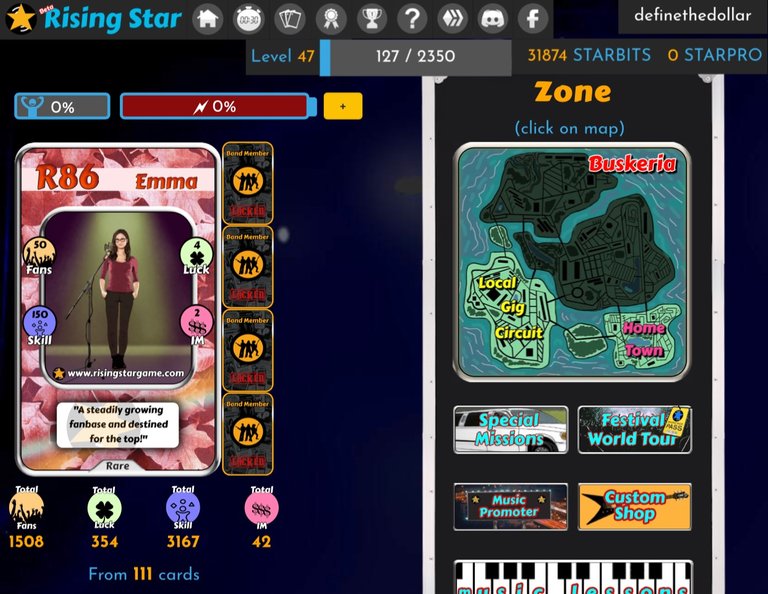 ---
I finished up my quest that I rage quit on last night before my post and then played again in the evening. I didn't really make any progress, but at least I held in Gold.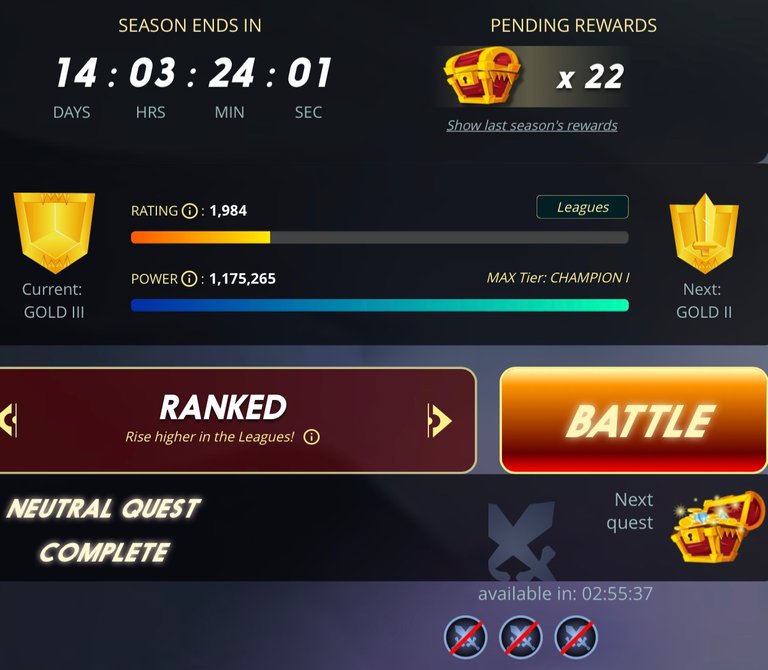 Had three wins without neutral monsters for my quest today and got it done despite winning and losing back and forth.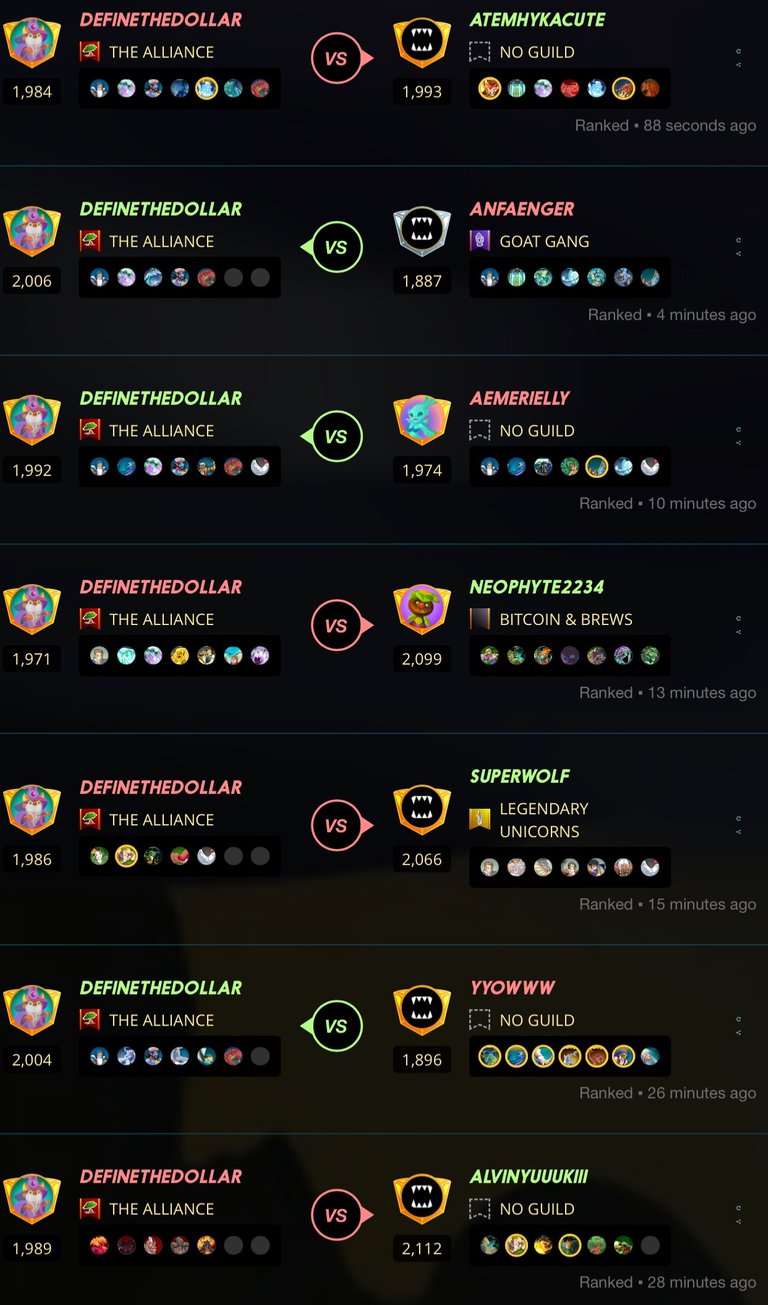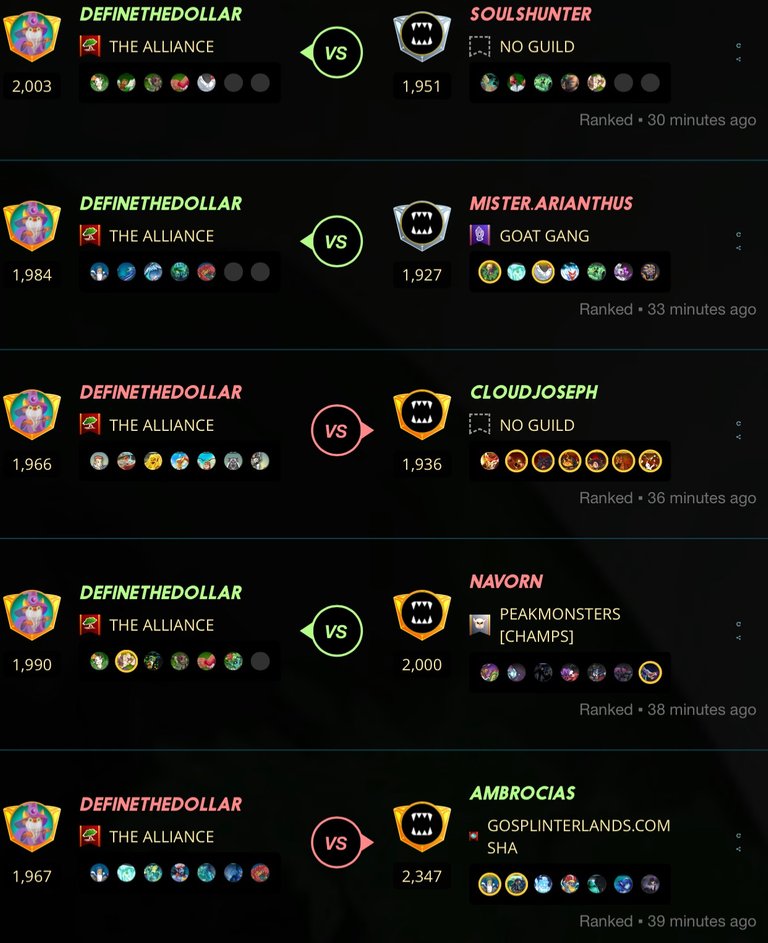 Not much to speak of in the way of daily rewards today; couple commons and a tiny bit of DEC: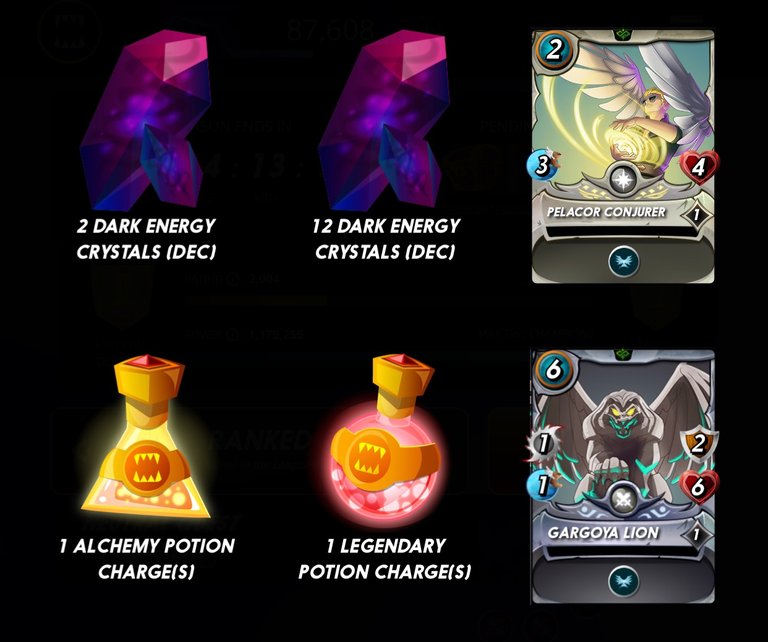 Staked my SPS drop for the day and am feeling a little empty not having any voucher to potentially sell…very seriously considering moving some more over to the market, but just waiting for now.
---
Average Last 7 Days: 11,533
Lifetime Average: 15,168
10k per Day Streak: 10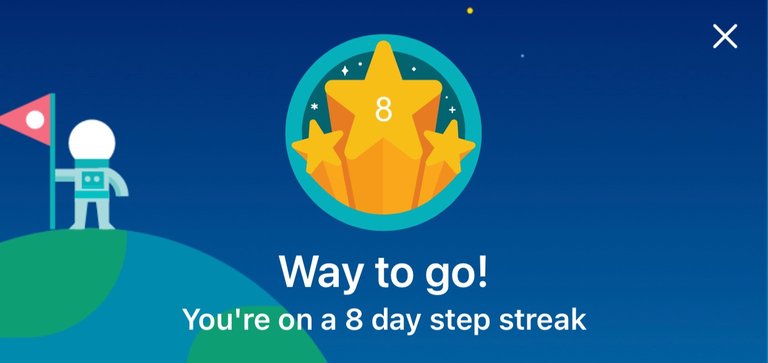 Longest Streak: 204

Distance on shoes: 728.49 km
Distance on hikers: 64.92 km
#AutomaticWin Tally: 421
#AutomaticWin Streak: 0
Longest Streak: 53
#TripleTen Tally: 118
#TripleTen Streak: 0
Longest Streak: 7
#DoubleDay Tally: 229
#DoubleDay Streak: 0
Longest Streak: 37
Highest Floors: 120
Highest Daily Steps: 41,528
Zombies evaded: 0/0
Mindfulness Diary:
Health: 81%
Satisfaction: 79%
Energy: 86%
Productivity: 67%
---
Referrals: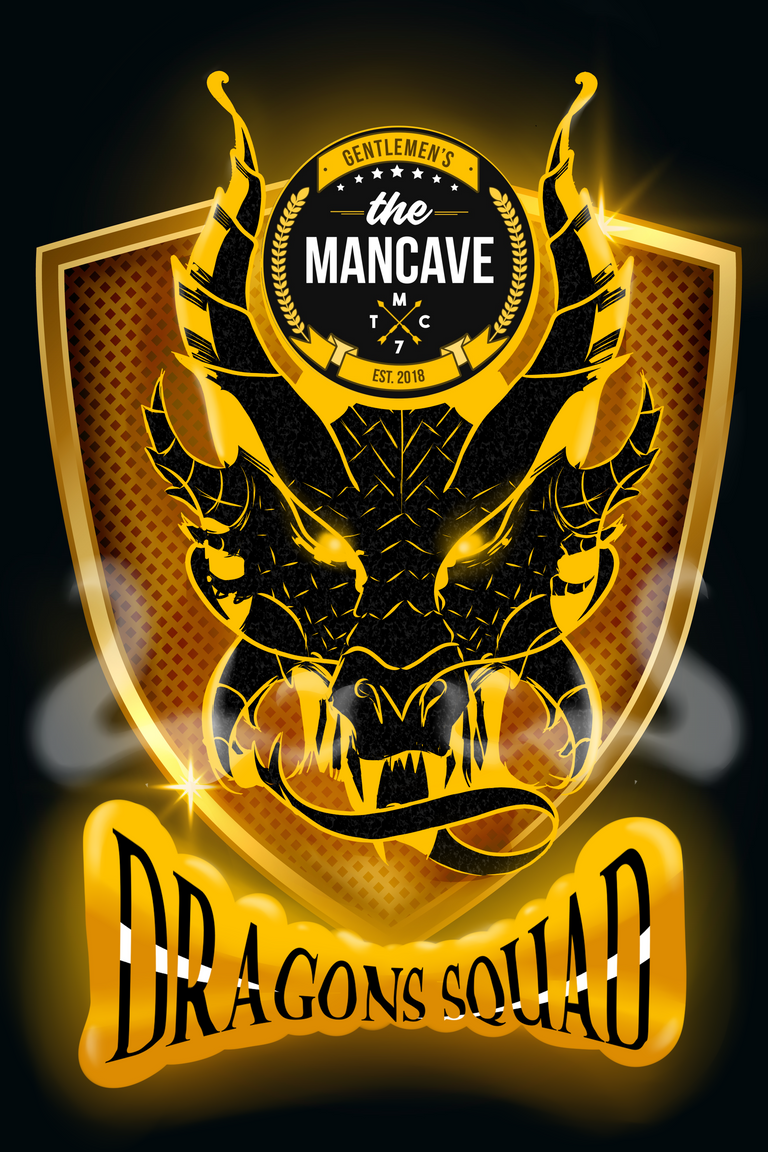 Power up and Hive on!